Back in February 2021, we published a blog post titled "Drake's eCommerce Store Is Lackluster To Say The Least", where we took a look at Drake's original OVO (October's Very Own) e-commerce website. We noted how meager the website set-up was in terms of shopability, especially in comparison to the beaming efforts put into marketing and advertisements, including drops with exclusive products and collaborations with Canadian star athlete Wayne Gretzky, social media influencer Sofia Richie, and Canadian outerwear company Canada Goose.
Luckily for Drake, it looks like he must've seen our RankWorks blog post and taken our expert advice. He recently unveiled drakerelated.com, a digital hub for everything related to the hip hop artist. The website is designed to be a digital replica of his infamous Toronto mansion, dubbed The Embassy. Visitors can venture through the space, exploring rooms such as Drake's bedroom, closet, and even enter Air Drake, his private jet. Strewn around the rooms are items available to buy through Shopify links to smaller creators and sellers Drake has collaborated with.
Drake's e-commerce website layout and shopping experience has taken the internet by storm, many calling its "innovative" design "the future of e-commerce". It certainly offers customers a unique experience in contrast to the typical grid shopping design. The doll house-like feel and interactive element have clearly captivated many web users and generated a lot of buzz – but is this e-commerce website design something we can really expect to see more of in the future? Is "Drake Related" revolutionary, or merely… glorified drop shipping?
The "Drake Related" Shopping Experience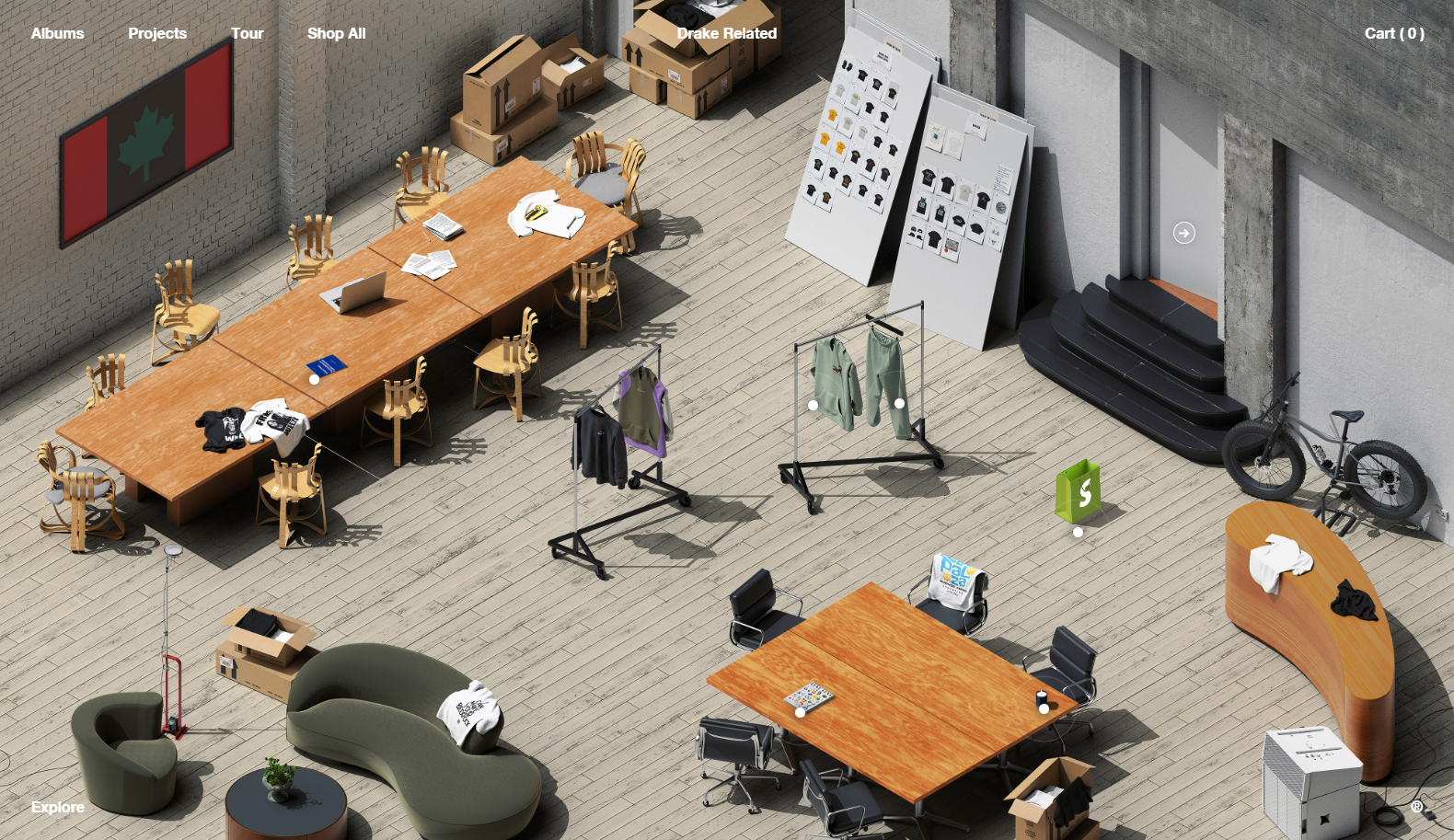 Visitors to Drake's store enter through a digitized reproduction of what is called the "El Chico Studios", with some items such as two hanging Defective Garments' pieces and Drake's own book titled "Titles Ruin Everything" strewn about the room and available for fans to shop.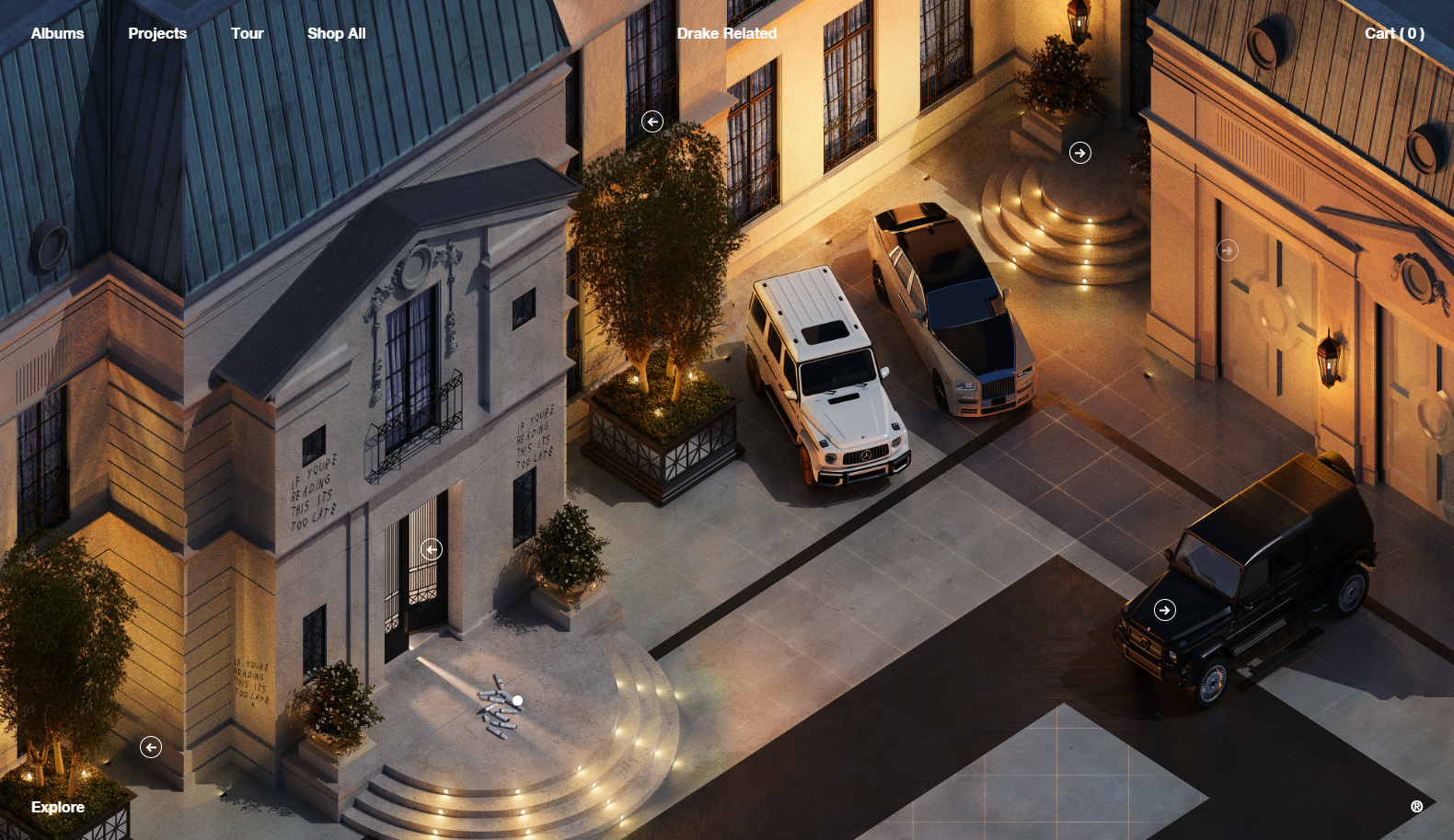 Website browsers can visit the outside of The Embassy, where you'll find a handful expensive cars (not for sale) parked with Krink paint markers littering the ground, having been used to write messages on the wall referencing Drake' discography. Arrows throughout the home indicate the different directions you can take from your current position, moving from room to room. Shoppers can also streamline the process by clicking the "Explore" button in the bottom left corner, which brings up the list of rooms to visit directly.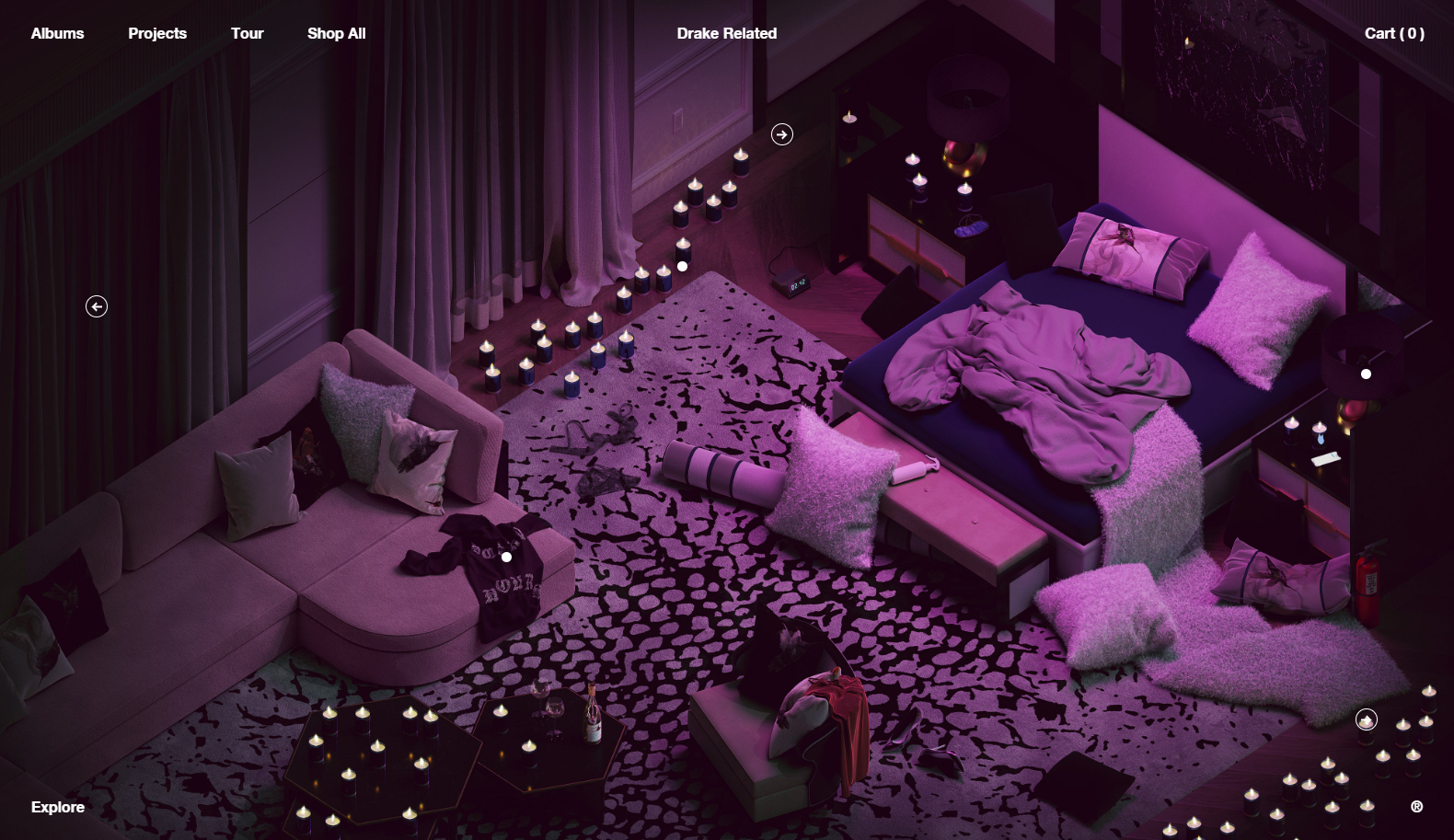 Visitors can take a peak into Drake's bedroom, with a day time view and night time setting that lights a romantic sea of candles and casts a pink hue throughout the room. Shoppers can view the available items for sale by toggling white spheres indicating a product. These toggles lead you to traditional product description and information pages where you can add the items to your cart. The items available for sale are a combination of Drake's own merchandise and products from other brands.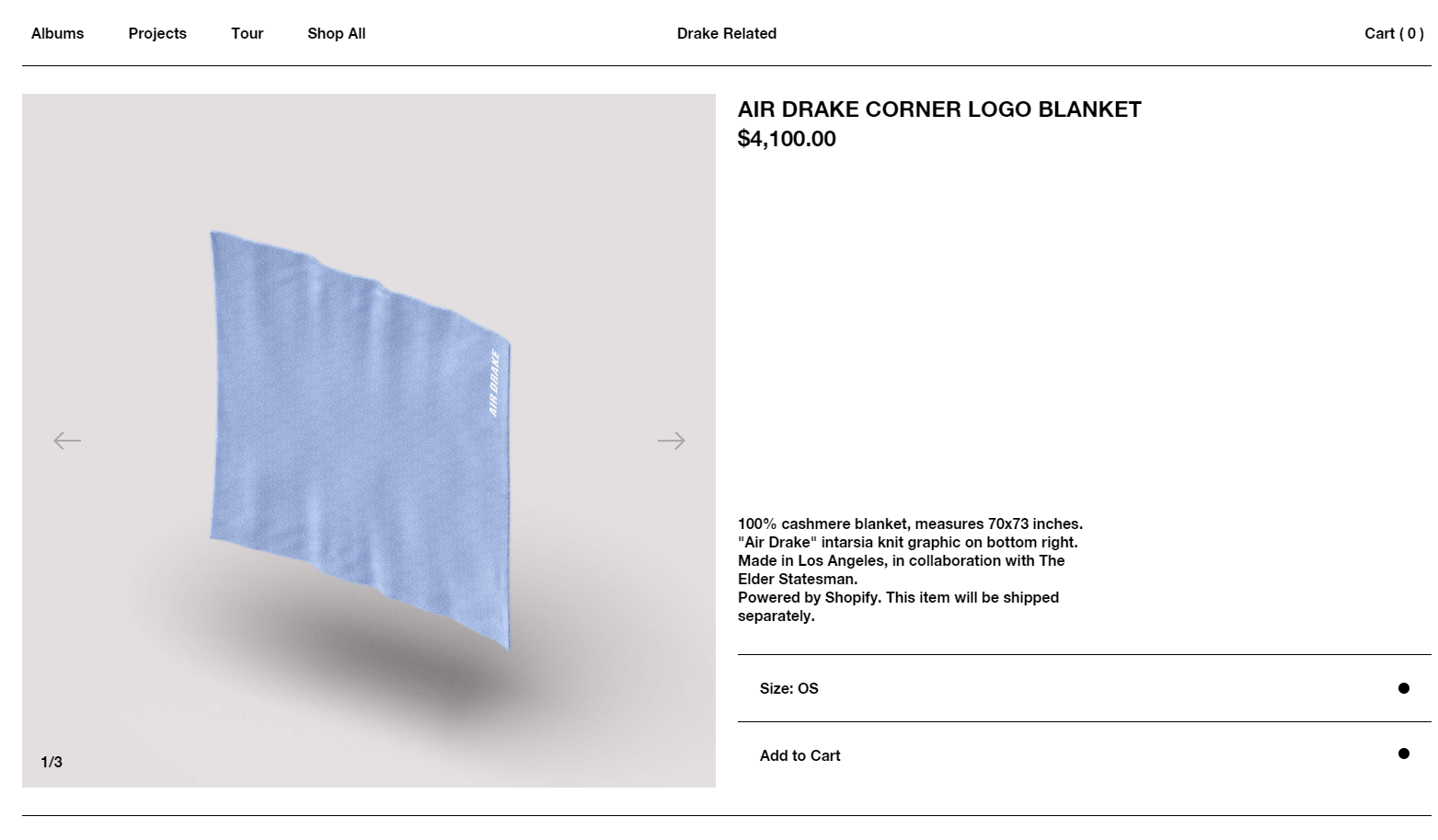 Product prices on the website vary dramatically, from a $25 USD paint market to a $4,100 USD Air Drake branded cashmere blanket. Since "Drake Related" is designed to be an amalgamation of anything related to Drake – no pun intended – this does partly explain why the products and price ranges for the assorted items for sale are so varied. However, from a business perspective, this does raise some questions – and even some concerns. Who is the intended audience or buyer? How do you successfully market and run an e-commerce website that sells both $20 USD books alongside $3,500 USD bath robes?
Shopify Collective
Shopify Collective is a feature that allows Shopify users to collaborate to carry and sell products from another Shopify shop in their own with no upfront inventory costs. Sellers looking to carry products from another vendor can request pricing from brands. You can also invite existing suppliers to connect with you on the platform.
Retailers purchase at the supplier's discounted price, and sell at the supplier's specified retail price. The retailer earns the profits associated with each sale, and order fulfillment and shipping is handled entirely on the supplier's end. The benefits are equal for suppliers, who can enjoy reduced operational costs and risks, while retailers with a more established audience or greater outreach can drive sales. The feature is currently free to use on the Shopify platform.
Drake's collaboration with a handful of independent brands is supported by Shopify Collective.
Collaborations
With "Drake Related", Drake has decided to collaborate with a number of independent brands selling on Shopify. Using the new Shopify Collective feature, Drake is able to work with these smaller businesses, using his platform and status to bring in new customers. When an order is made through the website, the logistical side of actually fulfilling the order is handled by the appropriate company without Drake's team being involved. The process is, essentially, a type of drop shipping. The brands that have so far had the chance to be part of Drake's new experimental shopping experience are:
The Elder Statesman
The Elder Statesman is a luxury lifestyle goods brand founded in 2007 and based in LA. In collaboration with Drake, they have created Air Drake branded cashmere socks, blankets, and bath robes.
Funboy
Funboy is a family founded company designing and selling quirky and unique pool floats and summer essentials. They have collaborated with Drake to create a "Hotline Bling" themed pool float, as well as a matching pink beach towel.
Krink
Krink is a New York City based company selling art materials and supplies. In Drake's digitized mansion, Krink paint markers litter the front of his home and are available to buy through the website.
Defective Garments
Defective Garments is a small business that focuses on sustainability by breathing new life into recycled clothing. You can find a hoodie and crewneck from the brand on Drake's website.
Is "Drake Related" The Future of E-Commerce?
Drake's e-commerce site has definitely gained a lot of talk since its launch, with many visitors citing its innovation and originality. Many claim that this website set up could be the very future of e-commerce shopping. Is there any truth in this statement? Would we soon be expecting to shop virtual mansions, grocery stores, or closets to buy our goods online?
In response to TikTok user @kanekallaway's video exploring the "Drake Related" site, user @tendo296 did not seem very impressed with the rapper's new website – and neither did the nearly 16,000 other users who liked his comment.

It was a sentiment that seemed quite unanimously shared in the comment section: Drake's website, while fun to play around on, is essentially a new, shiny version of drop shipping. Perhaps this new project is not so innovative after all…
TikTok user @cyntw22_ brings up the next important point of consideration, which is the website's question of functionality and navigation:

Sure, It's Fun to Look At – But is the "Drake Related" Website Practical?
I'll be the first to admit that viewing the "Drake Related" website is a fun experience the first time around. There's an unmistakable nostalgia to it, with the design being reminiscent of 2000's computer games and the ability for interactivity making it engaging. Plus, it's always a bit cathartic to take a look at how the millionaires among us live.
But as far as shopping goes, I'm not sure this is the most practical way to do it. Sure, this may be different and more creative than traditional grid websites that display available products in neat, organized rows, but was there really a problem with that design to begin with? As the saying goes: if it ain't broken, don't fix it.


The interactive element of the website is fun, but perhaps takes away from the actual function of the site, which is ultimately to browse, shop, and spend money, as users @runlikejojo and @wallstreetbets__ weigh in. It seems to feel more like a mini video game than an actual e-commerce website, which maybe works for a business owner that is already a multi-millionaire like Drake, but probably not for shops that rely on their website's functionality and easy navigation for conversion rates that keep them in business.
It seems pretty safe to say that while the "Drake Related" website is a fun and creative take on the traditional e-commerce layout that we're used it, it seems unlikely that this design will become a widely used strategy for other e-commerce platforms that can't afford to compromise on functionality and practicality. With so much influence and with millions of dedicated fans, Drake could probably design a website himself with no professional experience, and still make money with a poor interface, but the reality is that most e-commerce websites need a strong, user-friendly design that encourages conversion to be successful.
How To Create a Successful E-Commerce Website
An experienced, competent digital marketing agency is your trusted partner for creating and sustaining a successful e-commerce website. At RankWorks, our team of professionals have the necessary tools to conceptualize, design, and build a website that allows your brand to stand out in such a competitive digital space. We prioritize user friendly designs that foster increased conversion rates. Learn more about RankWorks and our digital marketing services today, and let us help your business soar to new heights!