Every business wants to dominate their industry and generate vast amounts of revenue. If there was no competition, the drive for excellence would diminish because innovation, creativity, and desire to be the best results from a pressure environment. Successful consumer goods and services that we enjoy are a product of their marketplace. They are the direct result of the competition between businesses that have the desire and talent to dominate.
Having the will to be number one in any industry is why entrepreneurs take risks. The reward is the payoff in terms of dollars, prestige, respect, and standing. A business owner understands that their company is their brand and how the public views their brand is based on where and how a company positions itself. Positioning requires a strong marketing plan and execution.
A good example of how an environment created competition where products had to evolve to become better is the story between both automakers Ferrari and Ford in the 1966 24 Hours of Le Mans race in France. Ferrari had dominated the race track up until Ford, with the help of Shelby, developed a superior race car called the GT40 Mk II.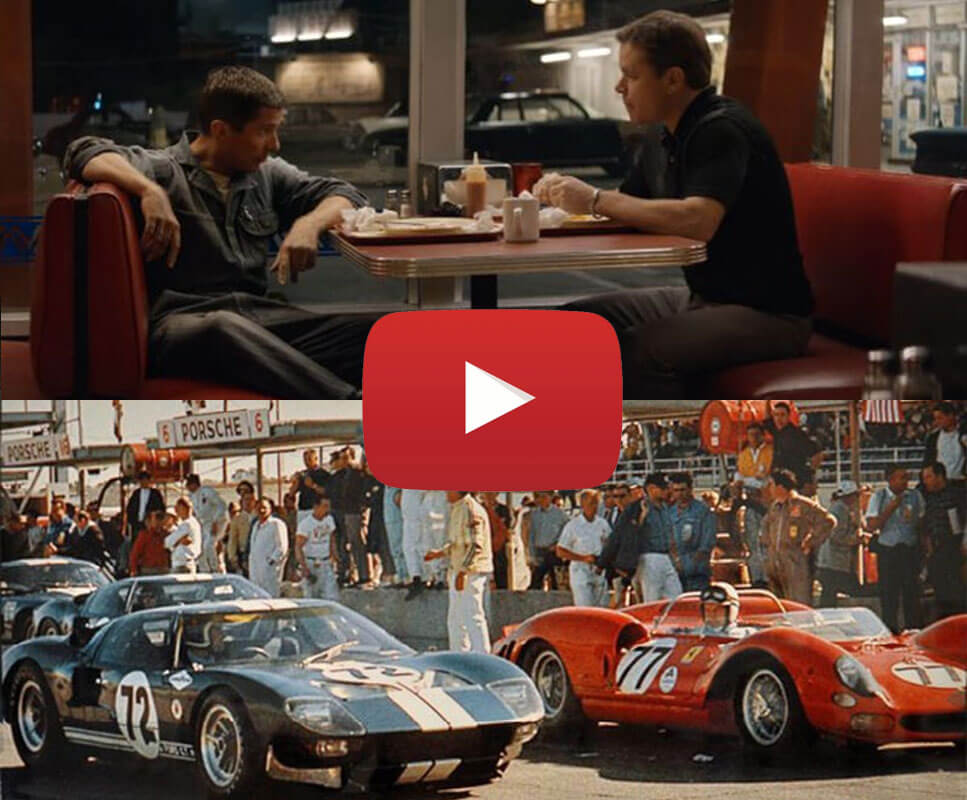 Imagine that Google's search engine is the most prestigious racetrack on the internet and that the company that wins top position on Google for their industry will earn all of the benefits mentioned above. Now, also imagine that your company's race car is its website and that to win it needs to be in the number one position on Google's search results page for keywords that produce sales. What would it take for your company to win?
A good digital marketing strategy needs to include these four components in order to out rank the competition on the internet.
A modern designed website:

A website should always be modern and updated regularly. Google's search algorithm basically powers the internet and if you want your company to appear in Google's search results then it needs to comply with its basic development guidelines. All of RankWork's websites are designed from the ground up and we don't use any templates. Templates are typically used by thousands of websites and this causes Google's algorithm to view a templated website as redundant. Having an original modern website that is mobile friendly with proprietary code and design is important for a company's online presence and Google will view this as positive.
A good SEO strategy:

When designing a new website a strong SEO strategy needs to be implemented. This will provide free organic internet traffic that is relevant to your business. When done correctly, SEO should be a revenue generating marketing strategy that explains to search engines what your business does and how it is relevant to people who are searching for keyword related results. A lot of work goes into SEO and it's not something you do once and never look at it again. SEO is an evolving marketing strategy that requires persistence and know how. There are specific Google guidelines on how to optimize websites for their search engine and if done wrong, a website can be penalized. Usually, a good SEO strategy starts showing results within a few months and then it's up to the SEO expert to improve those results with good content, submissions, backlinks, and other components.
Pay Per Click Ad Campaign:

The best way to drive new business from the internet is with a good search engine marketing strategy. Google Ads network is designed with the purpose that a company can pay for prominent placement in search engine results. The benefit of marketing your business with a Pay Per Click campaign is that you are targeting buyers that have intent to purchase with keywords that they are typing into search engines. This will guarantee that quality traffic will be directed to your company's website and that the chances of generating conversions are very high if your website has good "call to actions".
Social Media Plan:

It's important to understand that many buyers use social media to decide whether or not to do business with a company. Social media marketing is a very important strategy and should be relied on when building a company's public image, growing a loyal following, creating brand awareness, launching promotions, and engaging with potential buyers. Social media Management is a long-term process that requires commitment in order to grow a company's social presence. It is one of the best tools available to create reputation awareness when showcasing good work and managing client's expectations. A strong social media presence also has the added benefit that it provides a boost to a company's organic Google ranking. Even-though social media marketing is time consuming and requires graphics skills to post new content, it's worth it. There is no better "social proof" than having a lot of positive client reviews on multiple social media platforms.
To help with staying ahead of online competition, RankWorks developed a program called Website as a Service (WaaS). This program was designed specifically for small and medium size businesses to stay current with their web presence and to dominate their industry online. WaaS is a monthly plan that covers the design, development, hosting, maintenance and periodic updates that every website needs. The best part of this program is that every two years, in order to remain modern, RankWorks will redesign a brand new website for your business at no extra cost! That's right! A brand new website every two years for free! Just as Microsoft moved their core products to Office 365, and Adobe to Creative Cloud, we're revolutionizing brand placement on search engines.
RankWorks also offers social media management and Pay Per Click campaign management for clients that need help with their online marketing efforts. For more information on how RankWorks can help grow your business online please contact us for a free online business ranking analysis.