Alongside the great rappers and hallmark names of hip hop – Jay Z, Rick Ross, Kanye West and more – American rapper, actor and businessman 50 Cent has undoubtedly earned a place amongst the ranks of the most successful hip hop artists of the early 21st century. Born Curtis Jackson in the South Jamaica neighborhood of Queens, New York City, the hip hop artist has released 5 studio albums, sold over 30 million records worldwide, won over 80 awards, and has amassed a tremendous following throughout his music career spanning over twenty five years.
In a fashion truly befitting of his official debut album titled "Get Rich or Die Tryin'", Jackson has become an immensely successful and well-rounded businessman and investor, trying his hand at an array of varying industries and garnering a hefty net worth that speaks for itself.
From the Streets of Queens to a Net Worth of $40 Million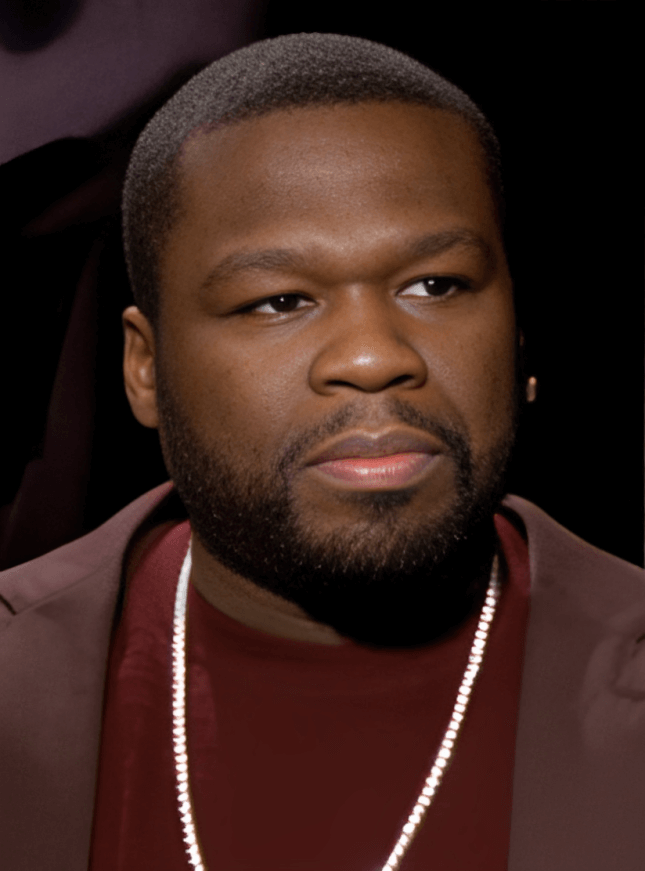 Jackson has opened up about his humble and challenging beginnings growing up in Queens, mixed in with the drug and gang scenes from a very young age and losing his mother at only 8 years old. He would later go on to pursue a career in music, eventually discovered by hip hop's iconic musical artist Eminem. Jackson had a successful debut release, and continued to climb charts and gain notoriety for years to come.
Throughout his career, Jackson has embarked on several business ventures, dabbling in a number of various industries including music, acting, philanthropy, video games and much more. Through these business undertakings, Jackson has amassed a current estimated net worth of approximately $40 million.
Current Corporate Positions
Owner of Sire Spirits LLC

Jackson is the owner of Sire Spirits, which is the marketing powerhouse behind Champagne and Cognac brands "Le Chemin Du Roi" and "Branson Cognac". He promotes these products during live performances as well as through social media posts.
CEO and Founder of SMS Audio

Jackson founded SMS Audio in 2011, acquiring Kono Audio that same year. The company primarily manufactures and markets headphones.
Founder of G-Unit Clothing Company

G-Unit Clothing Company was established in 2003 by Jackson and Marc Ecko. Since launching, the brand has generated over $100 million in sales.
CEO and Founder of Cheetah Vision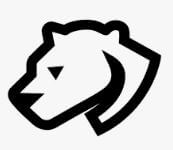 Cheetah Vision is an American film production company founded by Jackson in 2009, producing action thrillers for foreign film markets worldwide. The company's first film was titled Before I Self Destruct, named after Jackson's fourth studio album.
Investments
Effen Vodka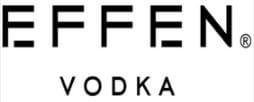 In 2014, Jackson started a partnership and became a minority shareholder in Effen Vodka, a Dutch vodka brand.
Mining
In 2008, it was reported that Jackson had met with Patrice Morsepe, a well known African billionaire, about his gold and mineral mines, and was interested in investing with him.
Glacéau, Vitamin Water, and Formula 50

Perhaps Jackson's most well known partnership is his involvement with Glacéau and Vitamin Water. He became a minority shareholder and celebrity spokesperson for the brand in 2004, creating a custom flavor titled "Formula 50". When Glacéau was absorbed by Coca-Cola in 2007, Jackson earned $100 million from the deal.
Other Money-Making Ventures
Throughout his career spanning almost 30 years, Jackson has veered down a number of cash-generating avenues. He has an extensive filmography, acting in both television shows and films, and has voice acted for a handful of video games as well. Jackson has written and published several books, owned a record company called G-Unit Records, and has worked with numerous major brands such as Reebok, Marvel, Right Guard, Tempur-Pedic and many more. At the height of his career, Jackson was estimated to be worth $260 million; in 2015, the artist filed for bankruptcy. 8 years later, the rapper's net worth now sits at $40 million, demonstrating Jackson's competence as a successful and savvy businessman.
Though a majority of his assets derive from his primary avenues of music and acting, this has not stopped Jackson from dipping his toes into a plethora of markets, including talent management, footwear, fragrances, liquor, mobile apps, book publishing and much more. Keeping an open mind to potential new opportunities and not shying away when they are out of your comfort zone is key for growing towards success. As a successful entrepreneur, one must be open to anything.
The Secret to 50 Cent's Entrepreneurial Success: A Strong Social Media Presence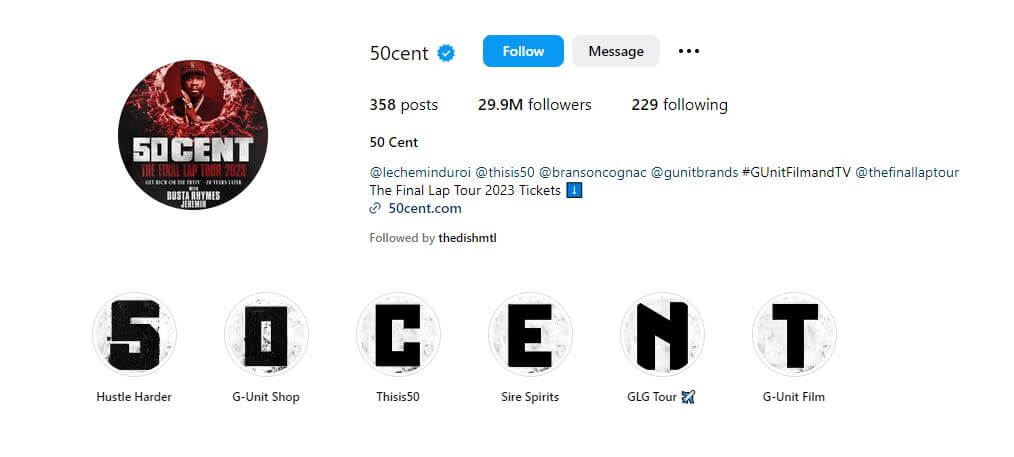 "I reach about 100 million people through my phone," says Jackson in an interview, where he insinuates that he has no need for major news outlets and publications to do his advertising and marketing for him. He has the platform, and he can do it better – and all with the simple tap of his finger. Since even before the rise in popularity of social media as we know it today, Jackson has utilized the internet in his marketing: not only in marketing his own brands and other endorsements, but also in marketing himself. The public image of 50 Cent is a character, and one which Jackson has been carefully curating for his entire career. From using stacks of fake prop money in his photos to create the impression of wealth and luxury, to periodically using his X (formerly Twitter) and Instagram accounts as a journal for his stream-of-consciousness thoughts, Jackson's online presence has been making headlines for years.
When Jackson initially launched his website in 2007, he made grand efforts to connect directly with his audience in the rising age of the internet. He shared blog posts centered around more personal topics, and would directly respond to fans in their comment sections. He would also have his team film him, streaming these videos live on his website for his fans to watch and interact with. All of these efforts contributed to a strong website membership, and with the rise of more modern social media platforms, Jackson has continued to modernize and adapt his usage of the internet to continue this connection with his fanbase that resonates on a personal level.
With a whopping 30 million Instagram followers and over 12 million over on X, Jackson certainly takes advantage of his large audience by making his casual style of social media marketing his main source of advertising. In every post shared on his personal @50cent accounts, the rapper includes the hashtags #lecheminduroi and #bransoncognac, consistently generating awareness and exposure for the two brands that are part of his marketing company Sire Spirits. On their respective brand accounts, marketing efforts are clearly designed to highlight the association with Jackson, or rather his persona 50 Cent. In both @lecheminduroi and @bransoncognac's profile descriptions, as well as in each individual posts, Jackson's personal account is always tagged, ensuring that any viewer will quickly understand the association between the brand and the famous rapper.
Additionally, both brands regularly post promotional content with various celebrities, as well as collaborative content with different restaurants and bars serving their alcohol. This marketing approach fosters connection, which is essential in any social media marketing strategy. Your audience wants to feel like they know you, and by posting about various restaurants and bars – many of which their followers may know of and already frequent – this encourages a sense of both relatability and trust between brand and consumer.
Conclusion
In our digital age, an effective social media marketing strategy backed by research and proven results is crucial for the success of any business. At RankWorks, our digital marketing and social media management experts have the tools and expertise necessary to help your unique business thrive in the internet age, with services ranging from page branding, content design and post creation to foster a strong online presence. When you maintain a strong image online, you create trust and credibility with viewers, turning prospective customers into paying customers.
At RankWorks, our experts take the time to get to know you, your business and your personal growth goals so we can personalize a plan that is designed to help your unique business prosper. Contact us today to schedule a free consultation to get started on your journey to success!